Say YES to the dress… being dry cleaned by Koko's!
Choosing 'the' wedding dress for your big day is one thing, choosing 'the' dry cleaner to professionally clean it afterwards is another.
Your wedding dress is often the most special, sentimental garment you will ever own. It holds a value far beyond what you paid for it. So, when it comes to restoring it back to its original condition you want it to be in good hands.
By doing so, it allows you to either on sell your dress in pristine, as new condition to an excited bride to be or preserving it to then pass on to future generations.
But remember the longer the dress sits hanging in your wardrobe or folded in a suitcase unclean, the less likely all stains can be removed when it's finally dropped off to be cleaned.
The Trust Experts in Wedding Dress Dry Cleaning
Koko's Dry Cleaning are the trusted experts in wedding dress dry cleaning in Perth, dedicated to providing you with outstanding service and specialist cleaning. Koko's has an experienced team of specialists who have acquired a wide range of necessary skills and techniques over the last 14 years, to clean the marks and stains that naturally result from your wedding day celebrations.
We utilise a wide range of modern, environmentally friendly cleaning techniques including specialised machines to clean the variety range of materials used in designing and manufacturing a wedding dress.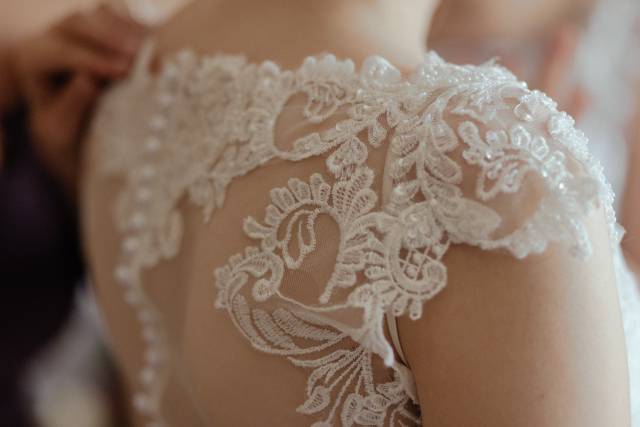 The Most Common Wedding Dress Stains
Despite even the most conscious effort, all wedding dresses will end up with some level of staining by the end of your wedding day celebrations, with a vast majority being dirt and oil that is invisible to the naked eye. Irrelevant of the size of type of stain, if not dry cleaned within a period of time, any stain has the potential to cause long-term damage to the dress.
Makeup stains: Among the many ways that your wedding dress can become stained, makeup is easily one of the main causes. Spray tan residue, foundation and lipstick etc can easily find their way onto your dress, and not just from you. Guests who will be passing on their well wishes to the bride can often transfer their makeup on to your wedding dress. To avoid the stain spreading, you can remove any excess amount by dabbing a dry cloth on the stained area, however it is highly recommended to avoid rubbing the stain as this may cause the stain to move deeper into the material.
Perfume & oil stains: To avoid any overspray and/or mist potentially staining your dress, we recommend applying your perfume, body oils and deodorants well before getting dressed on the day. However, stains can still occur and are often one of the main stains that you won't realise you have on your dress. This is especially common under the arms and on the bodice of your wedding dress.
Food & beverage stains: The combination of a white garment and the free flowing drinks at your reception heighten the risk of staining your wedding dress. But that doesn't mean we recommend avoiding the enjoyment of your favourite drop of wine. While some stains are barely noticeable, others like red wine and coffee are more obvious. However, no matter what type of food or beverage has been spilt on your dress, you'll be relieved to know that these stains are easy to remove.
Dirt stains: Wondering how the bottom of your dress has turned a nice shade of black? Although it's not usually noticeable until the day after the wedding, dirt from the outdoors, and/or from the venues flooring can stain the bottom of your dress. Almost every wedding dress ends up with at least some dirt along the bottom, some worse than others. In addition to the staining in this area, this is also a common part of your wedding dress that can be damaged. Speak to our specialists about repairing your dress during the dry-cleaning process.
As you can see below, a wedding dress cleaning process is not an easy task. This is not something you can easily do at home:
Our Wedding Dress Dry Cleaning Process
Having invested so much into selecting the perfect wedding dress for your big day, you don't want to entrust the task of dry cleaning it to just anyone. Wedding dresses are generally crafted from high quality materials and require the highest standard of care and appropriate methods when cleaning. That's why we don't apply a one solution fits all approach at Koko's Dry Cleaning, with each dress individually assessed to determine the best cleaning process required.
We determine the best possible treatment for each piece based on the extent of the stains on the individual garment. Typically, the cleaning methods of delicate pieces include individual pre-spotting and post-spotting, gentle cleaning cycles at low temperatures, hand pressing, minor complimentary repairs and several levels of quality control at each stage of the process. Our renowned attention to detail ensures that ornate buttons and embellishments are protected or removed and replaced after finishing.
Once your wedding dress has been inspected by one of our specialists, we will provide you with a detailed report outlining the recommended cleaning process in line with the condition of the dress. We will also outline any areas of risk or areas we believe 100% stain removal is not possible. Only after we explain the process and the desired outcome with you, do we proceed with cleaning process.
Where required, individual areas will be hand treated prior to cleaning to prevent material damage, discolouration or stains setting in.
After cleaning all wedding dresses are re-inspected and meticulously hand spotted All dresses are then expertly hand pressed.
After pressing, all dresses receive a complete final inspection. If we are not completely satisfied, all necessary steps will be repeated until we're 100% sure the best possible results have been achieved.
Monthly promotion
Koko's Dry Cleaners run regular monthly dry cleaning promotions for individuals, companies and bridal wear. Click on the below link to find out what offer is currently available across all Koko's Dry Cleaning outlets.